Tracey wins Artists' Artist Award at Artist and Manager Awards 2017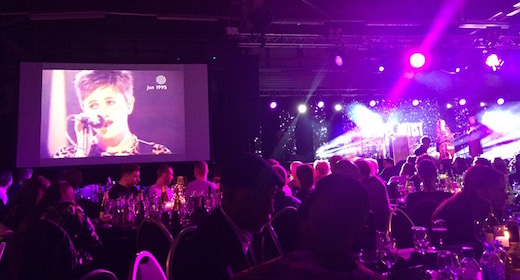 Tracey was honoured with the Artists' Artist Award last night at Artist and Manager Awards 2017 in a ceremony at the Printworks in London. The award was chosen by the Featured Artists Coalition (FAC) and Music Managers Forum (MMF) and recognises the long-term creative and innovative musical output of an individual or group. Previous winners including Joan Armatrading, Placebo and Massive Attack. She was presented with the award by singer Sandie Shaw and arts editor of the New Statesman, Kate Mossman.
Tracey has been recognised for her work in the Marine Girls and Everything But The Girl, her continuing solo career, her many collaborations with artists including The Style Council, Massive Attack and John Grant, and her work as a writer of two acclaimed memoirs and contemporary journalism for the New Statesman magazine.
'I am so flattered to be given this award,' said Tracey. 'I haven't won anything since 1984, when City Limits magazine gave me a small garden gnome for being the Best Female Singer. So this is a sharp thrill indeed, and I thank everyone involved.'